Recapping a Night of Connection: The RapidAscent Speed Networking Event
Last week, the local military community and civilians experienced a unique blend of rapid conversation and relaxed socializing at the much-anticipated Speed Networking event sponsored by RapidAscent. As promised, the gathering delivered an engaging platform for career-oriented individuals within the military sphere, and the atmosphere buzzed with potential from start to finish.
The evening kicked off with the energy and pace of a sprint as attendees engaged in brisk 5-10 minute conversations, designed to ignite connections and introduce a plethora of opportunities within a compact timeframe. Participants, ranging from those starting new careers to seasoned professionals, capitalized on these quick-fire sessions to exchange stories, ambitions, and business cards.
As the hour waned, the structured networking seamlessly transitioned into a happy hour. This change of pace provided the perfect backdrop for more in-depth discussions. Here, under the softer lights and over casual conversations, the seeds planted during the speed networking began to take root.
One of the highlights of the event was the presence of employees from various major corporations, federal sectors, and leading non-profits, all of whom brought with them a wealth of knowledge and the prospect of considerable career opportunities for attendees. The presence of such passionate cybersecurity professionals underscored the event's significance as a nexus for networking within the military and civilian community.
Moreover, the atmosphere was supercharged with excitement when RapidAscent announced the giveaway of Raspberry Pi door prizes. These miniature yet powerful computers were not just gadgets but symbols of the innovation and forward-thinking attitudes that RapidAscent embodies. The lucky winners went home with not just a tool for tech exploration but a tangible memory of an inspiring evening.
The event did not just facilitate connections; it celebrated the vibrant and diverse Colorado Springs community, which includes active duty military, military spouses, Veterans, and Civulians. This offered a space where shared experiences and common goals created an immediate sense of camaraderie. It was evident that every participant left with more than they came with – whether that was a new contact, a job lead, an unexpected friend, or even a Raspberry Pi.
As we wrap up our look back at the RapidAscent Speed Networking event, we extend a heartfelt thanks to everyone who participated. The success of the night was made possible by your enthusiasm and engagement. For those who couldn't make it, we missed you. However, we have another event scheduled for Nov 30th, 2023 in conjunction with ISSA and we are sponsoring it along with Cleared Careers, LogRhthym, and a large number of participating companies that are interested in hiring—given the success of this event, there's no doubt that there will be more opportunities to connect and grow in the future.
Keep an eye on our blog for updates and upcoming events. Until next time, keep networking, keep connecting, and keep ascending!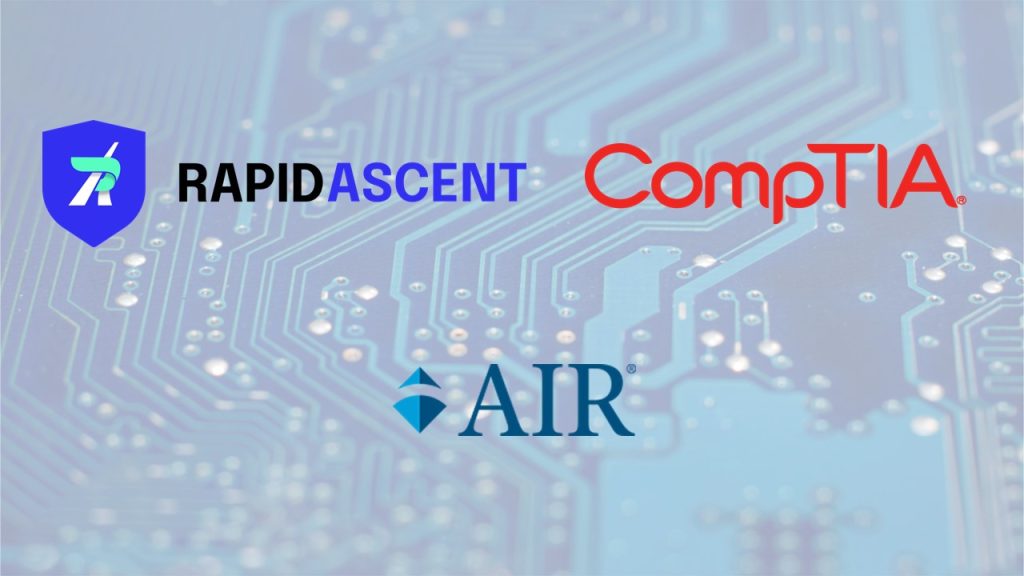 RapidAscent, Inc. announces approval by the State of California for Cyber Security Apprenticeship Program
RapidAscent brings its unique program to California to help the veteran community; organization is a member of the CompTIA Apprenticeships for Tech network
PLEASANTON, Calif.
Sept. 21, 2023
/PRNewswire/ —  (RA), a national educational apprenticeship organization, today announced its official recognition by the State of California for its Cyber Security Apprenticeship Program, marking a significant milestone in the organization's commitment to providing exceptional vocational training and career development opportunities for veterans nationwide.
RA is a member of the CompTIA Apprenticeships for Tech network, a national initiative funded by the U.S. Department of Labor (USDOL) and led by the American Institutes for Research in partnership with CompTIA to create employment opportunities in the tech workforce for individuals leaving the military from diverse backgrounds, while simultaneously helping employers fill tech staffing needs.
In furtherance of this achievement, RA has developed a program that can use tools such as SkillBridge, The Good Jobs Grant and even corporate funding to bring this educational opportunity to the student at no cost. These options allow a veteran leaving the military to gain a skillset in a rapidly expanding field and can let them continue to serve the country in a cybersecurity role with a government agency or government contractor.
Mike Lyons, co-founder of RA, expressed his enthusiasm for the expansion, stating, "With a steadily increasing need for cybersecurity professionals, RapidAscent's programs, that uniquely create operational skills in cybersecurity, are a deeply needed addition to gain critically needed job skills."
In August, U.S. employers listed more than 12,000 job postings for information security analysts, a 19% increase from July. The approval of RA for California State Apprenticeship Program offerings signifies the organization's dedication to bridging the gap between education and industry, equipping aspiring veterans with the necessary skills and practical experience to thrive in today's competitive job market.
"Our collaboration with California and California businesses marks a major step towards our goal of making cyber career apprenticeship opportunities available to a wide range of candidates. These programs then provide companies with qualified candidates whose skills are directly aligned with job opening requirements," said Craig Schultz, Chief Technology Officer and Co-Founder at RapidAscent.
Through this collaborative effort, RA will reach out to the veterans stationed in California enabling them to contribute to the nation's workforce and realize their full potential.
The USDOL selected the American Institutes for Research (AIR), a nonpartisan, not-for-profit organization that conducts behavioral and social science research and delivers technical assistance both domestically and internationally in the areas of education, health and the workforce, and CompTIA, the nonprofit association for the information technology (IT) industry and workforce, to serve as a national Industry Intermediary for expansion of apprenticeships in tech occupations.
About RapidAscent, Inc. 
RapidAscent has developed a competency-based program, including wage progression based on the competencies verified by skills assessments and signed off by the learner and the job manager/mentors.  These competencies are focused on cybersecurity analyst/engineer registered roles and have been co-developed and reviewed with major government defense contractors. This program is built around providing transitioning veterans with the tools and skills necessary for success in the technology sector.
Home
CompTIA Apprenticeships for Tech
21 Sep, 2023, 11:10 ET
Media Contact
sostrowski@comptia.org
630.678.8468
SOURCE CompTIA Apprenticeships for Tech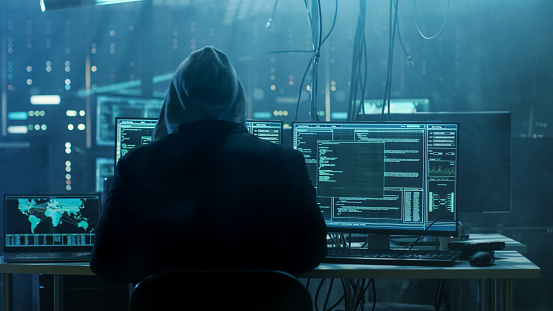 Category 3. In December 2021, Google took action to disrupt the Glupteba botnet, a sophisticated botnet which targets Windows machines and protects itself using blockchain technology.